This year's NBAA welcomed industry professionals from all over the world. The show brought together 27,000 participants in Orlando for one of the most important events in business aviation. With numerous press events, two static displays and an indoor exhibit with over 1,100 exhibitors, NBAA 2016 displayed the size and depth of the private aviation industry.
The Global Jet Capital team had the pleasure of meeting with fellow attendees, manufacturers and prospective business aircraft buyers. Below are pictures from Global Jet Capital's NBAA 2016 indoor booth.

The NBAA static display was held at Orlando Executive Airport and featured 114 of the world's most advanced business aviation aircraft. Global Jet Capital's static display featured a 2000 Falcon 2000 that is available for lease or purchase. In addition to the Falcon aircraft, Global Jet Capital also had a 2007 Challenger 300 and 2010 Gulfstream G550 aircraft for display at a nearby FBO. View pictures below from the Global Jet Capital static display at NBAA 2016.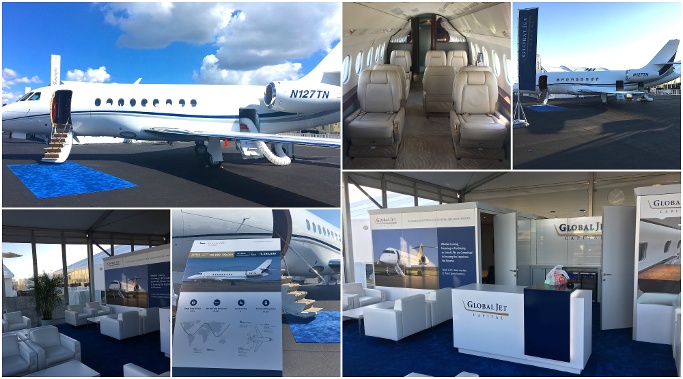 ---
When you're in the market for a pre-owned aircraft, the ability to make an informed decision is critical. We provide the most comprehensive aircraft purchasing experience available; from the aircraft's ownership and maintenance history, technology and refurbishment requirements, to market comparisons and financing alternatives. As one of the largest financial services companies in the industry, Global Jet Capital manages several billion dollars in aircraft assets.
When you purchase from our fleet, you're getting more than just a quality pre-owned aircraft – you're gaining access to a dedicated team with a commitment to ensuring the experience you deserve.
When you make a purchase with us, you're getting much more:
– Comprehensive unscheduled maintenance package with JSSI providing coverage for 6 months or up to 300 flight hours, whichever occurs first
- Rental Engines and Components during Unscheduled Maintenance to limit your downtime
- 24/7 Worldwide Technical Support
– Professional Aviation Training from FlightSafety
- Initial Pilot Training Program
- Initial Maintenance Training Program
– Vetted and well-maintained fleet
– Complimentary purchasing and financing services upon request
If a private aircraft is right for you, call us at 844.436.8200 or contact one of our management team members here.
Posted By
GJC Insider
\
SHARE