When it comes to business, being in control is a number one priority. In fact, it's the top reason many businesses are exploring their options as it relates to the way they get from point A to point B. For years, businesses have been constrained by the inconvenience of commercial air travel. However, a new and affordable solution has come to light and is taking off all across the country.
Private jet leasing has democratized luxury travel, providing cost-efficient options to business owners looking to break free of the airlines and regain control in the air. Rather than facing crowded airport terminals, uncomfortable seating situations, and headache-inducing security lines, many businesses are opting for the added convenience and streamlined travel services offered by private aviation.
In a recent survey of 1,000 Americans, our team of experts has uncovered that nearly a quarter of the country believes private aviation will actually surpass commercial air travel in business travel popularity. Follow along as we explore why it may just be only a matter of time until this prediction comes true.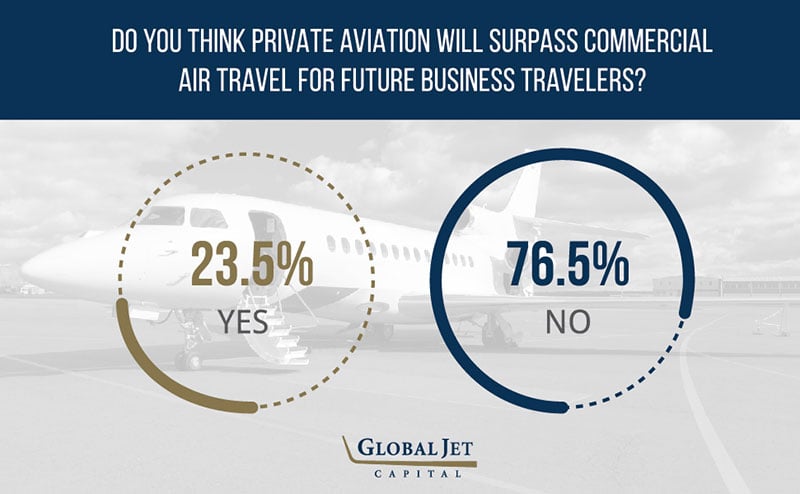 Private Aviation: A Growing Trend
One of the most telling signs that private aviation may one day surpass commercial air travel is that it continues to grow at a steady rate. According to the Study of Global Business Jets Market 2015, the business jet market in the United States alone is expected to eclipse $33 billion by 2020, a growth rate of 6.86%.
The market study only reinforces the trends uncovered by our survey. When looking at the results categorized by age, nearly ¼ of working age Americans feel that private aviation will continue to grow to surpass commercial air travel.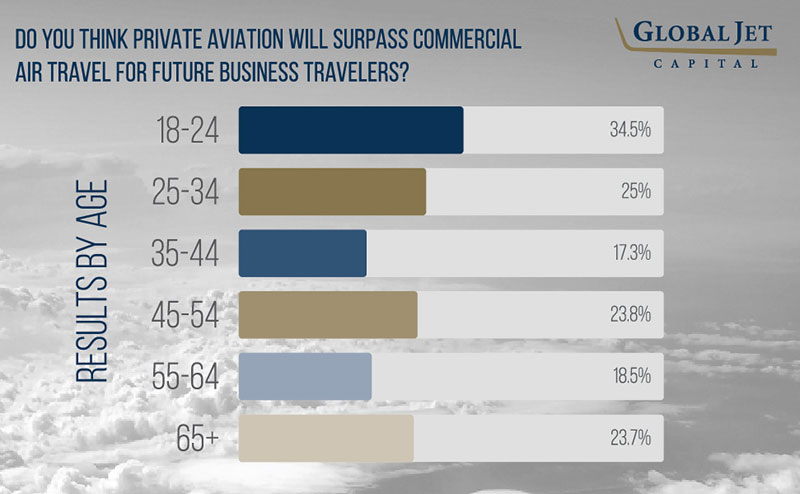 Even more promise can be predicted for the private aviation market when considering that the youngest generation of the workforce is leading in our results, highlighting how the next generation of businesspersons may just be the ones to push private aviation to new heights.
The Private Aviation Advantage
In the eyes of some business travelers, if you're flying commercial airlines you may as well be taking a public bus to your business meetings. As commercial airlines continue to cut routes, stop service and continue to inconvenience travelers in all sorts of ways, the case for private jet services only grows stronger.
The fact is that private jet travel opens endless opportunity for business travelers. Even if you choose to fly first class, the difference between commercial air travel and private jet travel is like night and day. Eliminate the need for arriving at the airport hours before your scheduled flight time, skip the layovers, stay on task and fly closer to your destination with private aviation.
Save Money by Saving Time
Long gone are the long waits and layovers of commercial air travel. Instead of hours, private jets allow your team to arrive merely minutes before takeoff. These extra minutes quickly add up, helping to keep everyone on task up until the moment of the departure without wasting time waiting in line.
When flying a commercial airline, your travel itinerary is essentially out of your control. You're at the mercy of a variety of factors from weather delays to overbooked flights that may derail your plans and leave your team running behind. Private aviation, however, provides you with the flexibility of flying whenever it's most convenient to you regardless of the external factors surrounding you.
Arrive Closer to Your Destination
There are over 5,000 general aviation airports across the United States, however only 500 of those airports have the space to accommodate large commercial aircraft. Private jets allow you the freedom to fly closer to wherever you need to go, cutting down transportation time from the airport to the meeting to help your team make the most out of their travel time.
Staying On Task in the Air
Say goodbye to overcrowded and noisy cabins and say hello to spacious workstations and meeting areas that allow you to stay on task even while in the air. Many private aircraft can be equipped with all the comforts of an office, allowing you to make up to the minute changes on presentations or keep up with the day-to-day on goings of the office. And, your privacy is guaranteed. No competitor will be looking over your shoulder.
Stay ahead of the future trends in business travel by working alongside the private jet leasing and lending team at Global Jet Capital. Our private aviation experts have the knowledge, industry connections and expertise needed to help you navigate through your jet financing process. Discover how private jet leasing can provide a quick boost to your business and contact the team at Global Jet Capital to finance your own private aircraft today.
Posted By
GJC Insider
\
SHARE