The business aviation community held another exciting National Business Aviation Association - Business Aviation Conference & Exhibition (NBAA-BACE) trade show last week. Show highlights include new announcements, like the introduction of Gulfstream's G700, and orders like Flexjet's order of 64 Embraer jets. One theme at the show was a growing interest in connectivity hardware and services. As more people become concerned with the environment, green technology has become another area of interest. Finally, the show offered an opportunity for companies to showcase advances in urban air mobility (UAM) concepts.
New Announcements
Amid much fanfare was Gulfstream's anticipated G700 introduction. The G700 will be Gulfstream's flagship jet, competing with Bombardier's Global 7500. Listed at $75 million, the G700 will be 109 ft, 10 in (10 feet longer than the G650). The cabin will accommodate a master bedroom suite with shower and can be divided into up to five living areas. Two all new Rolls-Royce Pearl 700 engines will power the jet, which also features the Symmetry flight deck from the G500/G600.
The other major announcement at the show was the PC-12 NGX by Pilatus. The third generation PC-12 features an upgraded PT6E-67XP engine, improved avionics, and a redesigned cabin with larger windows.
NBAA also offers an opportunity for manufacturers to display earlier announced aircraft. Bombardier debuted its Learjet 75 Liberty, while SyberJet sent one of its SJ30i jets at NBAA for the first time.
Bombardier also announced that its Global 550 and 6500 were awarded EASA certification and that their Global 5500 will have a range of 5,900 nm - 200 more than originally planned. Gulfstream followed suit by announcing EASA certification of its Gulfstream G500.
Dassault used NBAA2019 as an opportunity to announce progress on a number of new aircraft projects. The French manufacturer moved is Falcon 6X into early production phase and intends to begin a preliminary design review of a next-generation aircraft, typically dubbed the 9X by industry observers.
New Orders
While NBAA is commonly seen as a place to network rather than tally up sales, orders were strong in 2019. The following is a list of a few of the publicly announced contracts from NBAA 2019:
| | | |
| --- | --- | --- |
| Buyer | Make / Model | Order Size |
| | Bombardier Global 7500 | 6 ($436.8 million list price) |
| | Embraer Phenom 300E, Praetor 500, and Praetor 600 | 64 (up to $1.4 billion list price) |
| | Boeing BBJ 787-9 | 2 ($564 million list price) |
| | Pilatus PC-12 NGX | 3 |
| | Piaggio Avanti EVO | 10 |
| | Gulfstream G700 | 10 ($750 million list price) |
| | Gulfstream G700 | 16 ($1.2 billion list price) |
Connectivity
Just as consumers on the ground have come to expect ubiquitous Internet access, passengers on business jets want access to the latest technology in the sky. Companies at NBAA showcased their responses: Gogo's Avance L5 Wi-Fi system was approved by the FAA for installation on Embraer's Phenom 300, and Cessna's Citation X+, Sovereign+, and Latitude. The FAA also granted approval to install ViaSat terminal and wiring needed to receive Ka-band satellite service aboard Gulfstream's G280. Honeywell showed off its JetWave Wi-Fi system using Inmarsat Jet ConneX satellite broadband aboard a company-owned Dassault Falcon 7X to positive reviews. Gogo also announced a partnership with three other companies to build a 5G air-to-ground Wi-Fi network.
In addition to improving passenger experiences, companies demonstrated how their products and services will improve business jet operating efficiency. In partnership with GE, Bombardier will offer health monitoring units for all Globals and Challengers free of charge. The devices will record data from each flight, which operators will be able to use to predict maintenance requirements. Satcom Direct revealed its SD PostFlight service, which will automatically record aircraft flight log information after each flight to reduce pilot workload and minimize the chance for error. Finally, Honeywell announced its new Aspire 150 satcom terminal and antennas, which offer speeds up to 700 kbps for flight deck and cabin connectivity.
Green Technology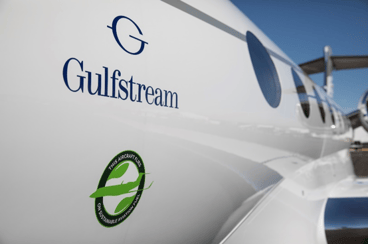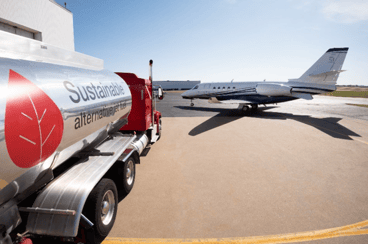 A Gulfstream Using SAF (left) and a fuel truck fills a Cessna Citation Latitude with SAF (Right)
Source: Gulfstream / Twitter
Environmental sustainability was front and center at NBAA 2019. All major business jet OEM's, including Bombardier, Cessna, Embraer, Dassault, Gulfstream, and Honda flew aircraft to the show using sustainable aviation fuel (SAF). Gulfstream used fuel provided by World Energy using beef tallow – inedible food waste. Companies also featured carbo offsets at the show. For example, World Fuel Services used only sustainable fuel or carbon offsets for all its energy requirements at the show. Fuel company Valcora and Gulfstream will both offer offset programs for their customers.
Electric and hybrid aircraft were another hot topic at the show. While most electric aircraft will fill UAM roles (discussed below), some companies are looking for longer range aircraft as well. For example, Ampaire and Ikhana Aircraft Services signed a deal with NASA to develop a fully electric DHC-6 Twin Otter
In order to maintain the momentum behind the growing interest in SAF, NBAA and the General Aviation Manufacturers Association (GAMA) announced plans to hold a Business Aviation Global Sustainability Summit in March 2020 in Washington, D.C.
Urban Air Mobility / eVTOL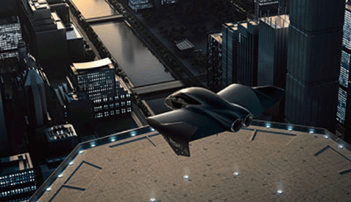 Boeing/Porsche eVTOL Concept
Source: Boeing
NBAA 2019 featured the first ever dedicated display of UAM concepts. For example, Bell brought its Nexus concept to the show, while Safran and Uber displayed a cabin mockup of an electric vertical take-off and landing (eVTOL) aircraft. New partnerships and investments in the industry were also on display. Shortly before the show began, Boeing and Porsche announced a partnership to work on a premium eVTOL concept while XTI Aircraft Company revealed an agreement for new investment that will enable the company to close a Series B funding round.
The show also enabled industry leaders to discuss details about moving forward with UAM and eVTOL concepts. Conversations centered around a report released by NBAA, Aviation Week, financial firm Nexa Advisors, and others that discussed questions about regulatory environment and building a business case for UAM businesses.
Global Jet Capital Celebrates Five Year Anniversary at NBAA
NBAA 2019 marked Global Jet Capital's fifth successful year of operations. Global Jet Capital had a major presence at the show, with a team of nearly 30 business aviation experts ready to discuss business jet financing with attendees. The company also had a Bombardier Challenger 604 on static display, which attracted great interest by show-goers. Interested in the Bombardier Challenger 604? View the aircraft specifications here.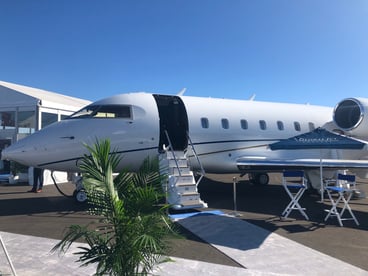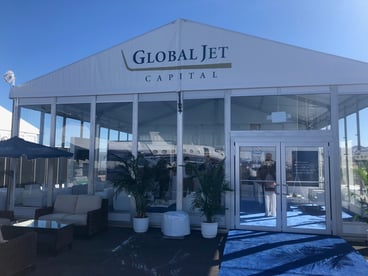 Bombardier Challenger 604 on static display (left) and Global Jet Capital's outdoor tent (right).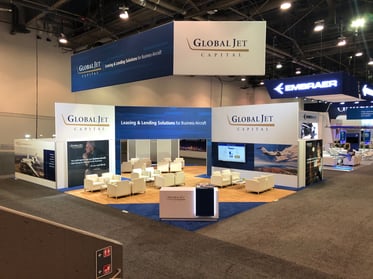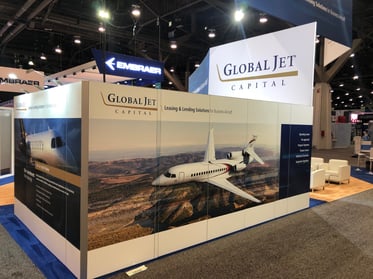 Global Jet Capital's indoor booth at NBAA 2019
To connect with one of our business aviation experts to discuss financing, contact us here.



Posted By
Bill Ostrove
\
SHARE