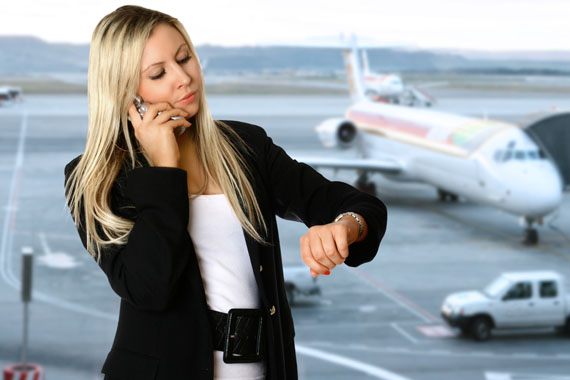 The need for face-to-face interaction during business discussions, presentations, negotiations, and at industry conferences is still essential in today's electronically-dominated world—and at the same time, our schedules have never been busier. It is for this reason that many corporations are turning to business jets to ensure that all of their travel needs are taken care of. With the freedom and flexibility offered by private jet services, travel can occur with minimal impact on overall efficiency. Below are some of the most compelling reasons to consider executive jet leasing.
Reducing the Time it Takes to Get To Your Final Destination
There are many time-saving benefits when it comes to executive jet travel – one of which is the reduction of time you spend traveling to and from your destination. Not only do you eliminate layovers, but private jets do not fly at the same altitude as commercial airlines – meaning that as long as weather permits, taking the most direct route to a destination is possible. In fact, smaller planes often fly at higher speeds than larger commercial jets, further reducing your travel time. While weather delays can't always be avoided, all other flight-related delays are significantly reduced.
The Freedom and Flexibility to Fly When it Fits Into Your Schedule
When you fly with a commercial airline you are limited by the schedule they offer, but when you select private jet travel, you and your colleagues fly at the times that work best for you. This means that there is less wasted in your trip. It often means that it is feasible to fly to and from a meeting on the same day. It is also easier to schedule your flight times around other personal and professional obligations. For example, you could fly out late on a Sunday night for a Monday morning meeting—so that very little of your weekend is lost in the airport. You could even fly to multiple destinations in one day, change your flight date and time at the last minute, or fly at literally any time of day or night.
Checking In and Arrival
Flying on a private jet means no more time wasted in long security lines, no taking off your shoes, no metal detectors, no wands, and no full body scans. When you fly on a private jet, you fly out of a more private area of the airport. Not only is this section of the airport easier to access, in most cases you can drive your vehicle right up to the plane. This means you can arrive at the airport within minutes of your departure time.
Once you arrive at your final destination, the ground crew unloads the bags planeside – meaning no waiting at baggage claim. And you have far more freedom and flexibility when packing – no 3 ounce liquid restrictions, no checked baggage fees, and you can even bring larger items such as golf clubs, presentation materials and even small boxes.
Private Jet Services
Another advantage to executive jet leasing, are the private jet services and amenities designed to make travel more comfortable, convenient, and efficient. Since you are flying in privacy, you can conduct meetings and continue to work without worry of proprietary or sensitive company or client information being overheard. You can also remain connected the entire flight because Wi-Fi is typically available when you lease a private jet. Also, expect to find onboard amenities such as a spacious and clean lavatory, tables for dining, clean pillows and blankets, and seats that are ergonomically designed for true comfort. Other concierge services may include high-quality food and beverages, music, movies, satellite TV, and outlets or ports for all of your personal electronics.
Last Minute Travel Made Easy
When it comes to traveling for business, trips cannot always be planned very far in advance. However, with private jet leasing – you can schedule a your trip without the worry of flights being sold out or only middle seats being available. You can also cancel or change your flight plan as needed.
If travel is still an essential part of your company's operations, executive jet leasing provides you with the ability to maintain efficiency without sacrificing travel frequency. If your team is already traveling commercially on a regular basis, take a look at the time and cost saving benefits of business jet travel—because they may be much more significant than you imagine.
Start searching for the right aircraft financing option for your team by reaching out to Global Jet Capital. With the leading team of private jet leasing and financing experts, Global Jet Capital can help you navigate through all aspects of aircraft acquisition and financing, helping you find the right fit for your organization's circumstances. Don't let commercial air travel slow your team down any longer and call Global Jet Capital today.