As our economy continues to expand on the global scale, aviation will continue to provide a transportation lifeline to companies and organizations of all sizes. The most forward-thinking of these companies will utilize private aircraft to help cut back on travel time, enhance efficiency and productivity of onboard personnel and remain flexible in today's increasingly competitive marketplace, but when the numbers are all laid out in front of us, is it really a good alternative to commercial air travel?
In a recent survey of nearly 800 Americans across the country, it was discovered that over 1/3 of the respondents felt that leasing a private aircraft was more advantageous than traveling commercially.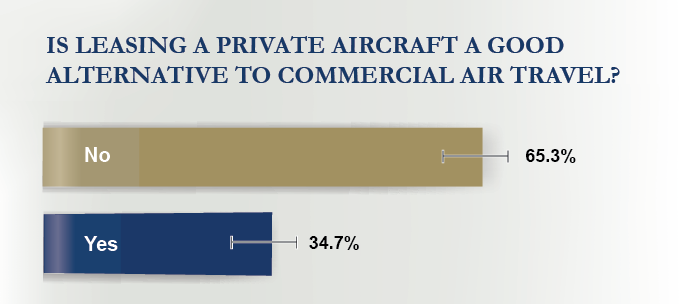 A Closer Look at the Results
Our survey gathered data from all across the United States without limitation on gender, age, or income. Overall, the trends discovered remained consistent across the board, as neither age nor gender had a significant effect on the results.
However, other parameters did have an impact on the results. When considering the urban density of the respondents, those who resided in an urban community were more likely to view leasing a private aircraft as a favorable alternative to commercial air travel.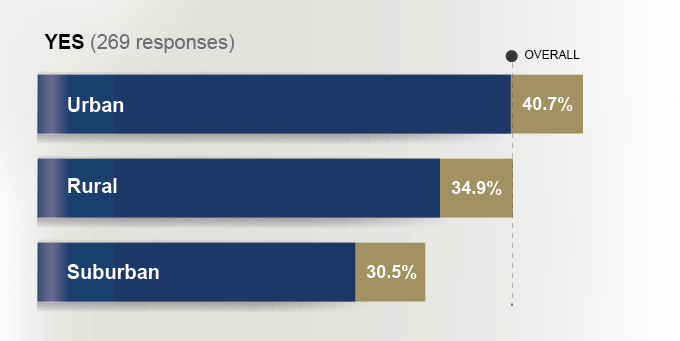 An individual's income level also seemed to have an effect on how they answered, as those in the highest income levels viewed private aircraft leasing even more favorably than their peers.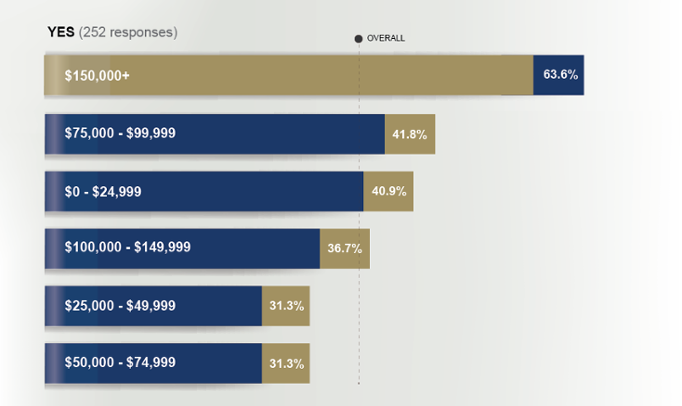 The Benefits of Private Aircraft Leasing
As mentioned earlier, the principle benefit of private jet leasing when compared to commercial air travel is an improved level of productivity. While commercial air travel leaves your team at the mercy of the airline, having complete access to a private aircraft through an operating lease puts you in control. In fact, 2/3 of passengers say they are more productive on a private aircraft than when they are in the office. So what's the reasoning behind the difference in productivity?
First and foremost, flying on a private aircraft is a time multiplier. Instead of showing up to the airport hours before your flight, waiting in security check-in lines and navigating through busy airport terminals, flying on a private aircraft allows you to show up and take off in a moment's notice. There is no need to make your way through TSA security check-ins or overcrowded terminals. Instead, you pull up right beside your private aircraft, pack up your belongings and take off.
Another advantage of flying aboard a private aircraft versus flying in business class on a commercial airline is the amenities. While most airlines have added Wi-Fi to their in-flight capabilities, they can't even begin to match what you can do onboard your own private aircraft. Whether you're staying connected with the office or holding meetings 36,000 feet in the air, the team on board your private aircraft will be just as if not busier than your in-office employees.
Putting Your Best Face Forward
Perhaps even better than all of the productivity tools outlined above is that leasing a private aircraft allows you to put your best face forward. In business, nothing is more valuable than meeting with your existing or potential partners face-to-face. While commercial airlines are able to help you get close to where you need to go, they still only have access to 500 airports in the country. A private aircraft has access to 10 times this amount, allowing you to travel exactly where your clients are to help you meet face-to-face and get things done like never before.
In today's world of video conferences and skype calls, the immeasurable value of face-to-face meetings can often get overlooked. No matter what industry you work in, these types of meetings allow you to make a personal connection with potential or existing clients – engaging them through conversation and driving your relationship forward. Without these strong, positive personal relationships, it will be hard to build up a sense of trust, understanding and a shared goal in your partnerships.
No matter how you look at it, business aviation is becoming an essential part of doing business. Keep your company connected and explore the business aviation financing options available through Global Jet Capital. Our comprehensive aircraft purchasing and leasing experience provides us with the expertise, financial strength and industry connections necessary to find the perfect financing solution for you. Contact us today to discuss your options by calling +1 (844) 436-8200.
Posted By
GJC Insider
\
SHARE