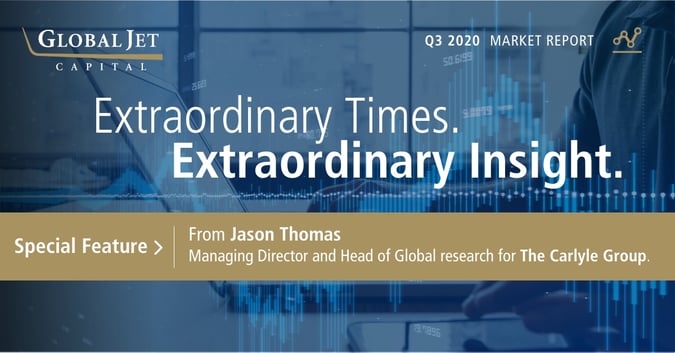 Following low points in Q2 2020, the business jet industry has steadily recovered and, despite challenges related to the COVID-19 pandemic, has performed well through Q3. Flight operations improved, pre-owned transactions increased, and inventory levels began to decline.
Global Jet Capital's Q3 2020 Quarterly Market Briefing covers the state of the aviation market for new and pre-owned business jets; including, an overview of overall economic conditions, business jet flight operations, pre-owned and new market conditions, business jet transactions, and changes in aircraft residual values.
This report includes the following insights:
Business jet flight operations in Q3 2020 were 17 percent below Q3 2019, a significant improvement from the 50.4 year-over-year decline recorded in Q2.

OEM backlogs declined 11 percent from a year ago; however, much of that decline occurred earlier in 2020 at the height of the pandemic's impact. The decline between Q2 and Q3 was a healthier 2 percent.

New production has recovered at a slower rate than pre-owned transactions as OEMs work to restart supply chains and adjust to lower spot market purchase demand. Increases in pre-owned transactions indicate continuing demand for aircraft in the market.

As a result of steadily improving pre-owned market conditions, inventory declined in Q3 and remains at a healthy level below 10 percent of the fleet.

Residual values were a mixed bag, with some larger aircraft declining in value while newer small and medium aircraft were more stable.
Special Feature Contributor: Jason Thomas, Managing Director and Head of Global research for The Carlyle Group, discussing the global economic impact of COVID-19.
Click here to download the full report:

Posted By
GJC Insider
\
SHARE