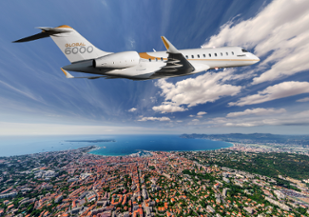 New research from Boca Raton based Global Jet Capital, a provider of financing solutions for large-cabin, long-range private jets, reveals there are around 2,100 business aircraft in Florida. This is the second largest fleet of business aircraft in the United States after Texas (which has around 2,780 business aircraft).
Global Jet Capital's research shows there are more business aircraft in Florida than in six of the seven most advanced economies in the world – Japan, Germany, the United Kingdom, France, Italy and Canada. On a regional level, Fort Lauderdale has the largest number of registered business aircraft in Florida, with 321 aircraft, followed by Miami and West Palm Beach.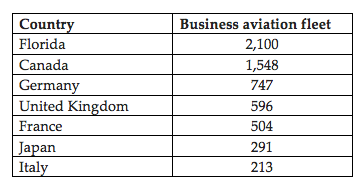 Shawn Vick, Executive Director of Global Jet Capital, is attending the Corporate Jet Investor Miami 2015 show this week (21st – 22nd October) along with over 250 senior level financiers, brokers, lawyers, manufacturers, operators and other business aviation professionals. Commenting on the Florida business aviation market, he said: "This is one of the biggest in the world. We help finance the purchase of larger business aircraft, and our analysis reveals that there are 735 mid to large business jets in Florida alone, and 75 of these were delivered between 2010 and 2014. These aircraft can cost between $25 million and $75 million, and typically up to around 80% of the funding to purchase them is sourced from external parties like us.
"We currently have around $1 billion to lend to clients looking to buy larger business aircraft, and we are placing a huge focus on Florida."
Global Jet Capital recently agreed to purchase the aircraft lease and loan portfolio of GE Capital Corporate Aircraft in the Americas representing approximately $2.5 billion of net assets.
The company, which was launched last year, is capitalized by three global investment firms – GSO Capital Partners, a Blackstone company in partnership with Franklin Square Capital Partners*; The Carlyle Group; and AE Industrial Partners.
The company's current management team and executive committee is composed of leaders from business jet manufacturers, maintenance and service providers and leading financial institutions who have served the private aircraft industry for a combined 200-plus years and have completed over 3,500 aircraft transactions. As part of this transaction, the GE Capital Corporate Aircraft team will join the Global Jet Capital organization.
Global Jet Capital was advised by Deutsche Bank Securities Inc., BofA Merrill Lynch and Citi together with Latham & Watkins LLP, Clifford Chance US LLP and Kirkland & Ellis LLP as legal advisors. Closing is contingent upon the completion of customary closing conditions and is expected to occur in stages over the next several months.
Global Jet Capital
Global Jet Capital is a financial services company providing financing solutions for the private aircraft market. The business is capitalized by world-class private investors with expertise in the global aviation industry: GSO Capital Partners, a Blackstone company, in partnership with Franklin Square Capital Partners, The Carlyle Group and AE Industrial Partners. We offer a management team with expertise in financing, asset management, acquisition, marketing, lease administration and product support that understands the intricacies of the private aircraft market. Global Jet Capital serves virtually all jurisdictions and has the capital and expertise to meet the needs of the global private aircraft market, with flexibility and speed. www.globaljetcapital.com
GSO Capital Partners and Franklin Square Capital Partners
GSO Capital Partners, with approximately $81 billion in assets under management, is the credit platform of The Blackstone Group, a leading global institutional alternative asset manager, with assets under management of approximately $330 billion**. Franklin Square Capital Partners is a leading manager of alternative investment funds designed to enhance investors' portfolios by providing access to asset classes, strategies and asset managers that typically have been available to only the largest institutional investors. Franklin Square manages over $16.8 billion** in assets. Franklin Square's funds are currently sub-advised by GSO or its affiliates. www.blackstone.com/gso
* Investment to be made by funds advised or sub-advised by GSO Capital Partners and Franklin Square Capital Partners or their respective affiliates, as applicable.
** As of June 30, 2015
The Carlyle Group
The Carlyle Group (NASDAQ: CG) is a global alternative asset manager with $193 billion of assets under management across 128 funds and 159 fund of funds vehicles as of June 30, 2015. Carlyle's purpose is to invest wisely and create value on behalf of its investors. Carlyle invests across four segments – Corporate Private Equity, Real Assets, Global Market Strategies and Solutions – in Africa, Asia, Australia, Europe, the Middle East, North America and South America. Carlyle has expertise in various industries including aerospace, defense and government services; consumer and retail; energy; financial services; healthcare; industrial; real estate; technology and business services; telecommunications; and media and transportation. The Carlyle Group employs more than 1,700 people in 35 offices across six continents. www.carlyle.com
AE Industrial Partners
AE Industrial Partners is a private equity investment company founded in 1998, by David Rowe and his late father, aviation pioneer Brian Rowe, to make direct investments in aerospace, power generation and specialty industrial companies. Today AE Industrial is led by 11 partners with each having an average of over 30 years of relevant operating and direct investment experience. AE Industrial is focused on investing in precision component manufacturing, distribution, MRO (maintenance, repair and overhaul) and industrial service-based businesses that are strategically important to their market places. AE Industrial has invested in over 30 companies including: Aviall, Dynamic Precision Group, Grand Prairie Accessory Services, Landmark Aviation, Kellstrom Materials and Belcan Corporation. http://www.aeroequity.com/